Princeville Things To Do
There are many great activities, attractions and adventures are on the North Shore of Kaua'i, but there are also many other memorable experiences elsewhere on the island. Scroll down to review some of the best Princeville things to do:
ATV Rides
Biking and Cycling
Boat Tours, Snorkeling, Rafting and Sunset Cruises
Disc Golf
Fishing
Golf
Helicopter Tours
Horseback Riding
Kayaking
Kīlauea Point National Wildlife Refuge and Lighthouse
Luau
Movie Location Tour
Museum
Pickleball
Rice Mill
Sunset Golf Cart Tour
Tubing Adventure
Waimea Canyon Drive
Zipline Expedition
Princeville Things To Do
ATV Rides
Kauai offers some of the best off-road and 4×4 ATV experiences. Kipu Ranch Adventures offers guided scenic tours along the historic Kipu Ranch, a 3,000-acre privately-owned cattle ranch located on the lush island of Kaua'i, while other tours motor through thousands of acres on historic Grove Farm terrain, old Koloa Sugar Mill, Hilary bunkers, and well-known Hollywood movie locations.
Tour companies include:
Kipu Ranch Adventures
www.kiputours.com
(808)246-9288
Kaua'i ATV
https://kauaiatv.com/
(808) 742-2734
ATV Tours Kauai
https://atvtourskauai.com/
(888) 508-9948
Biking and Cycling
Kauai Path is nonprofit that enhances and increases the enjoyment of biking and cycling across the island by designing, implementing, and managing of non-motorized multi-use paths island-wide. For more information visit kauaipath.org or call (808)639.1018.
Boat Tours, Snorkeling, Rafting and Sunset Cruises
Probably one of the best activities on the island. Explore Kauai's rugged Nāpali Coast variety of different types of boat tours, rafting, and cruises. Morning, afternoon, sunset, and full day tours available. Tours include amazing views of waterfalls, and the 3,000-foot cliffs and pinnacles of the Nāpali Coast. Some people like snorkeling and scuba among turtles and tropical fish. Other tours include exciting, heart-pumping adventures on rafts, trips into caves, as well as seasonal whale and dolphin watching.
Tour companies listed on the Princeville Things To Do page:
Blue Dolphin Charters
https://bluedolphinkauai.com/
(808) 335-5553
Capt. Andy's
https://www.napali.com/
(808) 335-6833
Holo Holo Charters
https://www.holoholokauaiboattours.com/
(808) 335-0815
Nāpali Catamaran
https://www.napalicatamaran.com/
(808) 826-6853
Nāpali Riders
https://www.napaliriders.com/
(808) 742-6331
Kauai Sea Tours
https://kauaiseatours.com/
(800) 733-7997
Liko Kaua'i Cruises
https://liko-kauai.com/
(808) 338-0333
Makana Charters and Tours
https://makanacharters.com/
(808) 228-9980
Blue Ocean Adventure Tours
https://goblueadventure.com/
(808) 338-9999
Disc Golf
Disc Golf is a new activity in Princeville and is available at the Championship Mauka Disc Golf Course at the Princeville Makai Golf Club. The new 18 hole layout was designed and built by Innova Disc Golf Designers, Harold Duvall, Andrew Duvall, and Darrell Bankes in December of 2021. Reserve a spot online at https://www.makaigolf.com/discgolf/ or call (808) 826-1863.

Fishing
Enjoy the Waita Reservoir, a treasure hidden away from crowds. Here is the largest inland body of fresh water in the state of Hawaii. Located on private property, Waita is inaccessible to the general public. This secluded hideaway is ideal for sightseeing and recreational activities. Enjoy our bass boat in this tropical paradise with catch and release fishing; Tilapia, Catfish, Big Mouth Bass, and Peacock Bass (aka Tucunare).
Koloa Bass Fishing
www.koloabassfishing.com
(808) 246-9288
Golf
Refer to the separate page for mored details of Golf under the "Activities & Events" category.
Helicopter Tours
View dramatic coastlines, exquisite cliff formations, wonderful secluded beaches, and more on any number of Island Helicopter Tours. View respective websites for details of the different thrilling and jaw dropping flights over scenic Kauai.
Tour companies on the Princeville Things To Do page:
Adrenaline
www.adrenaline.com/kauai/helicopter-rides/
(312) 487-3014
Blue Hawaiian Helicopters
www.bluehawaiian.com/en/kauai
(800)745-2583
 Island Helicopters Kaua'i
www.islandhelicopters.com
(808) 245-8588
Horseback Riding
Horseback Riding has not fully returned to the North Shore post COVID. Please check their website for the latest information https://princevilleranch.com/ or call them at (808) 855-0064.
Kayaking
One of the best ways to see the hidden and sacred places once reserved only for the Ali'i (royalty). Disembark and hike through a rainforest and visit hard to reach waterfalls. Various tours available include camping, paddling, hiking, biking, surfing, and snorkeling via plan your own adventures.
Tour companies on the Princeville Things To Do page:
Kayak Kaua'i Hanalei
www.kayakhanalei.com
(808) 826-9844
 Ali'I Kayaks
www.aliikayaks.com
(808) 241-7700
Kīlauea Point National Wildlife Refuge and Lighthouse
This is a very popular area for walking along a short, paved trail leading to the historic Daniel K. Inouye Kīlauea Point Lighthouse (builtin 1913). It's a great location for spotting nesting sea birds and humpback whales (in the winter), so you'll likely encounter other people while exploring. The Refuge is beautiful to visit year-round. Access requires a reservation and entry fee.
For more information, visit:  https://www.kauairefuges.org/plan-your-visit.
Luau
A luau is an unforgettable evening filled with a lavish island buffet and a truly immersive and interactive show. Many leading hotels offer Luau's while the most well-known luau on the island is the Luau Kalamaku, offered by Gaylord's Restaurant at Kilohana Plantation's 60-acre orchard and agricultural park. They provide an authentic Hawaiian experience under an open-air pavilion where you will enjoy a breathtaking performance chronicling an epic sea voyage from Tahiti to Hawaii with graceful hula dancers, fire poi ball twirlers, and stunning fire knife dancing. Dinners includes delightful local dishes with fresh ingredients sourced from Kaua'i farms. Tuesday and Thursday evenings and select Mondays in summer and winter.
Luau Kalmaku
https://www.luaukalamaku.com/
(877) 622-1780
Movie Location Tour
With its natural beauty and tropical landscapes, Kauai has long been a sought-out destination for Hollywood. You'll love recognizing the iconic locations and backdrops from numerous Hollywood favorites including: Six Days and Seven Nights, Gilligan's Island, The Amazing Race, Fantasy Island, Pirates of the Caribbean, Jurassic Park, and Blue Hawaii.
Tour companies include:
Roberts Hawaii
https://www.robertshawaii.com/kauai-tours/hawaii-movie-tours/
(808) 539-9400
Museum
Centrally located in Lihue at 4428 Rice Street, the Kaua'i Museum consists of two gracious buildings, a contemporary museum, and a historic structure that is dedicated to the history, culture, and arts of Hawaiian people. https://www.kauaimuseum.org/
(808) 245-6931
Pickleball
Pickleball is a racket/paddle sport that was created by combining elements of several other racket sports. Two or four players use solid paddles to hit a perforated hollow polymer ball over a net.  Emmalani Park park has a basketball court, three pickleball courts, and a volleyball court available on a first come, first served basis.  The park is open from 9:00am to 7:00pm and players can reserve courts for certain days/times so check the pickleball page for schedules and rules.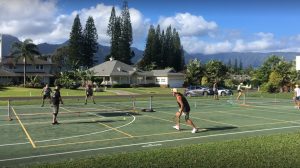 Rice Mill
The only historic rice mill and family Taro farm tour in Hawaii is an opportunity to experience the history, culture, and wildlife of Kauai's beautiful Hanalei Valley. Al eco-tour, hands-on activities, lunch, and refreshments from farm fresh ingredients. Reservations required.
Ho`opulapula Haraguchi Rice Mill
www.HaraguchiRiceMill.org
(808) 651-3399
The Sunset Golf Cart Tour 
The Sunset Golf Cart Tour at Princeville Makai Golf Club is a two hour guided golf car tour of the golf course, flora and fauna that make up the North Shore of Kauai, intertwined with both cultural and geographical educational elements. The final stop on the tour is sunset on the seventh hole on Princeville Makai overlooking Turtle Bay, Queens Bath and Hanalei Bay. Truly spectacular.
Reserve a spot online at https://www.makaigolf.com/sunsetcarttour/ or call (808) 826-1863
Tubing Adventure
Grab a tube, don a headlamp, and jump in the gently flowing waters and float down spectacular, open historical engineering canals, through several amazing tunnels and flumes engineered and hand dug circa 1870. At the end of your adventure, you will be guided to an enchanted picnic area nearby for a delicious lunch and a cool dip in a natural swimming hole.
Tour companies on the Princeville Things To Do page:
Kauai Backcountry Adventures and Mountain Tubing
https://kauaibackcountry.com/
(855) 846-0092
Waimea Canyon Drive
Mark Twain called this the "The Grand Canyon of the Pacific." It is also the wettest spot-on earth. There are a number of guided tours, but most people take a self-guided tour.
Zipline Expedition
Zip-lining is no longer available on the North Shore but is offered many other places on the island. Zip-lining over treetops, magnificent forest canopies, tranquil streams, bamboo groves, a suspension bridge, waterfalls, tandem side-by-side zips, and even monster 4,000 ft high zips. Zip-lining in Kaua'i is exhilarating and unlike anything else you have experienced! Providers usually offer between 7-9 zips over different terrain so research each to see which one is right for you.
Tour companies include:
Hawaii Adventure Center
https://www.hawaiiadventurecenter.com/kauai/zipline/adrenaline/
(808) 353-3922
Kauai Backcountry Adventures
https://kauaibackcountry.com/
(808) 245-2506
Koloa Kauai
https://koloazipline.com/
(808) 742-2734
Note to readers:
As we have separate sections for the Princeville Things To Do, Kauai Beaches, Kauai Hiking Trials and Botanical Gardens, please review the other sections of I Heart Princeville to explore all the possibilities, activities, attractions and sights you may be looking for.
Best Beaches on the North Shore
Hiking Trails on Kauai's North Shore
Botanical Gardens on Kauai North Shore