Streets in Princeville
Princeville (zip code 96722) has fifty-five roads and streets, most of which have a Hawaiian name. For all the streets in Princeville see below list in alphabetical order.
Ahonui Place
Akai Road
Albert Road
Aloali'i Drive
Anini Vista Drive
Edward Road
Streets in Princeville continues:
Emmalani Drive
Hanalei Plantation Road
Haulani Place
Honoiki Road
I'Luna Place
Iolani Place
Ka Haku Road
Kaahumanu Place
Ka'iana Place
Kaiko'ewa Place
Kalakaua Place
Kalani Place
Kamalani Lane
Kamamalu Loop
Kamehameha Road
Kapaka Street
Kapiolani Loop
Kaui Road
Streets in Princeville continues:
Kawaiala Place
Kaweonui Road
Kekaulike Lane
Kekuanaoa Lane
Kelii Place
Keoniana Road
Kina'u Place
Kuawa
Kuhina Place
Lei O Papa Road
Liholiho Road
Mahina Place
Makani Kai Place
Makani Kalani Place
Mapuana Place
Mili Makani Place
Moa'e Place
Moli Place
Nalani Lane
Namakeha Loop
Napo'okala Circle
O'Place
Pauahi Place
Pepelani Loop
Pilikoa Street
Poki'i Lane
Punahele Road
Queen Emma's Drive
Rooke Place
Victoria Loop
Waileia Place
Wyllie Road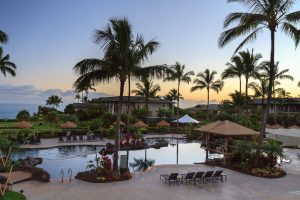 Geographic.org aslo produces a list of the Streets in Princeville.
Before entering the Streets in Princeville you are introduced by the iconic Princeville Fountain. (See below).